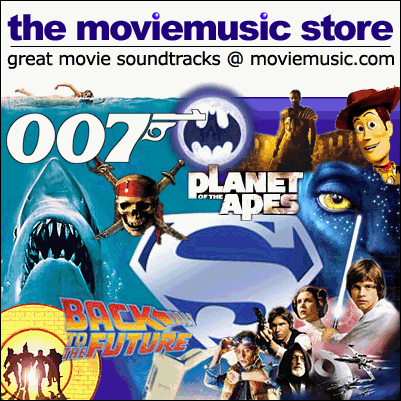 BURBANK, CA. (Warner Sunset Records) - The highly anticipated soundtrack from Tim Burton's
Charlie and the Chocolate Factory
, starring Johnny Depp, which opens nationwide on July 15th featuring original music and songs by award winning composer and musician Danny Elfman (
Spider-man
,
Good Will Hunting
) will be released by Warner Sunset Records on July 12th.
For
Charlie and the Chocolate Factory
(the composer's 11th collaboration with director Tim Burton), Elfman has composed the score as well as the original song "Wonka's Welcome Song," (with lyrics written by Elfman and screenwriter John August, and music by Elfman). Elfman has also written the music for 4 other tracks with lyrics based on the lyric chants in the "Charlie and the Chocolate Factory" book by Roald Dahl. Elfman wanted to stay true to Dahl's words in the book, which had a wonderful rhythm to them.
For the first time since
The Night Before Christmas
, Elfman sings lyrics for the 4 Oompa-Loompa songs about four of the children who win tickets to tour Willy Wonka's incredible chocolate factory - "Augustus Gloop," "Violet Beauregarde," "Mike Teavee," and "Veruca Salt," as well as the new original song "Wonka's Welcome Song." Elfman's orchestral score and sweet new pop songs perfectly set the mood for this visually stylistic film. "This is the 11th film I've worked on with my friend and collaborator Danny Elfman," said Burton. "Each time has been different and Danny is always an important character in the telling of the film. He has created yet another fantastic score that successfully reflects the movie."
Burton continued, "What was unique about
Charlie and the Chocolate Factory
was the creation of the Oompa-Loompa songs. It was great fun to see Danny work within a number of different musical genres." "The great part of working with Tim on the music was that he kept throwing me off center by suggesting different styles of music that I wasn't expecting. His ideas have so often led me to places that I wouldn't have thought of, but remain my favorites. In particular on the songs for 'Charlie' Tim and I worked very closely together and the challenge was to give each song for each child their own distinct feel. 'Augustus Gloop' was inspired by big brassy Bollywood production pieces; 'Violet Beauregarde,' the gum-chewer, threw back to a retro 70's funk feel; 'Mike Teavee,' needed something frenetic and hyperactive like he is, the short attention span video game rock kid; and 'Veruca Salt' who goes down the garbage chute has lyrics about fish heads," said Elfman.
The Grammy-winning, Oscar-nominated Elfman has been working in the motion-picture arena since 1985, when director Tim Burton - fascinated by Elfman's playfully macabre music for the cult L.A. rock band Oingo Boingo - called him to write the music for
Pee-Wee's Big Adventure
. The Elfman-Burton collaboration continued with the clever and quirky music for
Beetlejuice
(1988) and reached a high point with the massive, gothic score for the original film
Batman
(1989), which won a Grammy for the composer - and legions of fans, who felt that his Wagnerian approach gave the comics' Dark Knight a new and entirely appropriate sound.
Since then, Elfman has scored nearly all of Burton's cinematic excursions, including the touching
Edward Scissorhands
(1990), with its delicately lyrical choral passages; the funhouse-from-hell music for the mad Penguin and Catwoman in
Batman Returns
(1992); the songs and score for the imaginative Halloween fable
The Nightmare Before Christmas
(1993); the '50s-style sci-fi score for
Mars Attacks!
(1996); the intense and powerfully orchestrated
Sleepy Hollow
(1999); and the percussion-driven
Planet of the Apes
(2001). Five of Elfman's eight Grammy nominations are for Burton films.
Acclaimed director Tim Burton brings his vividly imaginative style to the beloved Roald Dahl classic
Charlie and the Chocolate Factory
, about eccentric candy-maker Willy Wonka (Johnny Depp) and Charlie Bucket (Freddie Highmore), a good-hearted boy from a poor family who lives in the shadow of Wonka's extraordinary factory. Long isolated from his own family, Wonka launches a worldwide contest to select an heir to his candy empire. Five lucky children, including Charlie, draw Golden Tickets from Wonka chocolate bars and win a guided tour of the legendary candy-making facility that no outsider has seen in 15 years. Dazzled by one amazing sight after another, Charlie is drawn into Wonka's fantastic world in this astonishing and enduring story.
SOURCE: WARNER SUNSET RECORDS