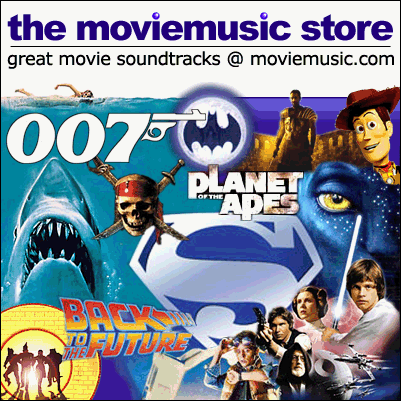 FIVE-TIME OSCAR NOMINEE GEORGE FENTON CREATES RICHLY ATMOSPHERIC SCORE FOR UNDERSEA DOCUMENTRY FILM DEEP BLUE SONY CLASSICAL CD RELEASED JUNE 14, 2005
Fenton Conducts Berlin Philharmonic Orchestra In Original Score That Reflects The Film's Images Of The Wild Grandeur Of Life Undersea
Miramax Releases Deep Blue On June 3 In New York & Los Angeles
An innovative motion picture experience that takes audiences on an epic journey through life on the ocean floor, Miramax Pictures'
Deep Blue
features a richly atmospheric musical score by five-time Oscar nominee George Fenton. A co-production of BBC Worldwide and Greenlight Media, the film – narrated by Sir Michael Gambon (Dumbledore in the upcoming Harry Potter and the Goblet of Fire), and directed and written by Alastair Fothergill and Andy Byatt – opens in New York and Los Angeles on June 3rd, 2005. The composer conducts the Berlin Philharmonic Orchestra – the first time the orchestra has recorded a new film score – on the original soundtrack recording, which Sony Classical will release on Tuesday, June 14, 2005.
Nominated five times for the Academy Award – for his scores for Gandhi,
Cry Freedom
,
Dangerous Liaisons
and
The Fisher King
, and his title song from Cry Freedom – Fenton has been writing scores for film, TV and the theater since 1974.
Deep Blue
brings the composer back to the world of documentary film, where he has been acclaimed for his scores for such documentary TV series as The Trials of Life, Life in the Freezer, Beyond the Clouds, Shanghai Vice and The Blue Planet. So popular was his music for
The Blue Planet
– produced by Alastair Fothergill, who co-wrote and co-directed Deep Blue – that Fenton has conducted concert performances of The Blue Planet Live! at the BBC Proms in London's Hyde Park and in Hong Kong, Copenhagen and Los Angeles at the Hollywood Bowl.
Deep Blue
takes the viewer down to the depths of the ocean floor to explore the monumental yet fragile system of life that exists there. Inspired by the BBC series The Blue Planet, the film takes full advantage of cinematic scope and scale to capture the vastness of the undersea world and the constant danger and excitement that exist there.
Fenton's film credits also include scores for this summer's Bewitched, Hitch, Stage Beauty,
The Madness of King George
,
You've Got Mail
,
Anna and the King
,
Ever After
,
Shadowlands
,
Groundhog Day
and
Sweet Home Alabama
, as well as English director Ken Loach's films
Land and Freedom
, My Name is Joe and Sweet Sixteen. He is a winner of the Emmy, BAFTA and Ivor Novello awards and a three-time Grammy nominee.
SOURCE: SonyBMG Music